How to play the Food Game
This is a fun game you can play while surfing your favorite traffic exchanges. The goal is to cook wonderful dishes with ingredients you have collected. When you cook a recipe, you will earn points. The people with the most points at the end of the week will earn a Prize.
When you are a new member, you should begin this game by playing the short Tutorial. In the Tutorial you will learn your first recipe and get a few other useful gifts. If you start the Tutorial, you can always come back to the step you previously ended on, if you click the Tutorial link in the member home page again. You can also always come back to this Help page and read about how everything works. Press Ctrl F to open a search box in your browser, if you are looking for something specific.
Click here to start the Tutorial

.
Recipes
There are a total of 120 recipes you can learn how to cook. The recipes are divided into 10 recipe books, each from a different country in the world. Each book contains 3 common recipes, 4 rare recipes and 5 super rare recipes.
To learn a recipe, you need to attend a
Cooking Class
. There are two types of cooking classes, Normal Cooking Class (NCC) and Gourmet Cooking Class (GCC). By using Cooking Class tickets, you immediately learn recipes. You can see which recipes you have learned in the
Recipe book
. The Cooking Class tickets look like this: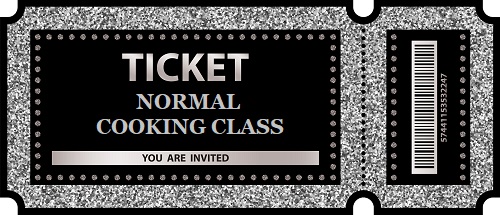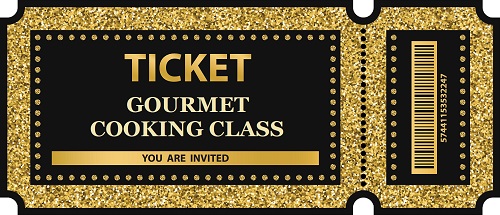 For each Normal Cooking Class ticket you collect, you will receive a common (60% chance) or a rare recipe (40% chance). For each Gourment Cooking Class ticket you collect, you will receive a common (50% chance), a rare (30% chance) or a super rare (20% chance) recipe.You will earn tickets for Cooking classes by surfing at the featured traffic exchanges of the week. The featured sites are listed on member home page.
There are 10 levels of each recipe. If you have learned a recipe, you have a chance of improving it when you attend a Cooking class. Levelling up a recipe means you get more points from cooking it. Once you have reached level 10 in a recipe, you would get a Gold prize if you use a Cooking Class ticket which would level up this recipe.
Ingredients
You need between 4 and 8 ingredients to cook each recipe. The more rare a recipe is, the more ingredients are used to cook it and the more points you get for cooking it. But the ingredients also come with different rarity levels. There are a total of 82 different ingredients you can find, and each ingredient has a rarity of between 1 and 10. A level 1 ingredient is common, while a level 10 ingredient is very rare. You can see all the ingredients and their rarity level on the
Ingredients List
under the Ingredients tab. You can see which ingredients you currently have on the
My Ingredients
page under the Ingredients tab.
You can select a Special Ingredient through your blue dashboard on member home page. It can be a rare ingredient or something you really need to finish a recipe. When you have selected a Special Ingredient, you have a chance to find it with each claim when surfing in the Tasty or Delicious sites. If you don't select a Special Ingredient, you will get 5 experience points from Tasty sites and 10 experience points from Delicious sites.
Finding ingredients for your recipes
To collect ingredients for the recipes, you need to surf in any of the participating traffic exchanges. You can find which sites they are on the
Participating Sites
page, which is also a Downline builder. Don't forget that you need to enter your referral ID for a traffic exchange in the Downline builder before you can start collecting ingredients in that website.
The Food Game will appear in the top surfbar of the participating websites when you surf there, once every 25 pages you have surfed. Click the chef hat icon to open the game. It will open in a popup window, so it will not interefere with surfing or advertising on that traffic exchange. You must allow popups in your browser to be able to claim an ingredient. The game icon looks like this, and you only have 90 seconds to click it after it appears to be able to claim the prize:

REGISTER NOW !!!!